Join us for some reptile-themed crafts and activities followed by an educational program with live reptiles!  Takes place Monday, September 26 from 2:00-3:45 p.m.
Registration is currently full.
Planning Ahead is a 7-step program presented by Patty Schachtner of St. Croix County and developed by the UW Madison – Division of Extension. This class simplifies the process of getting your final wishes and care decisions managed in a logical, easy breakdown. Click here to register.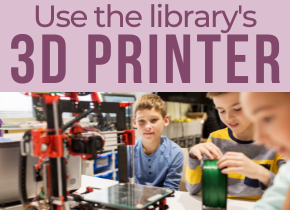 Find a design and fill out our online form to use the library's 3D Printer.  Create toys, tools, art, and more!  Click here to learn more.
The library is offering free Covid tests Monday-Thursday from 9 a.m. – 3 p.m.  Self-test and drop off your test kit in the collection box and you will receive your results by text or email within 48 hours.  Click here for more information.
Engage and Interact
The Sensory Space is a comforting environment for young children to explore their personal sensory needs.  The sensory space will be open:
Mon, Oct 3, 3:00 p.m. – 6:00 p.m.
Tue, Oct 4, 10:00 a.m. – 3:00 p.m.
Wed, Oct 5, 3:00 p.m. – 6:00 p.m.
Join Mr. Daniel every Tuesday at 10:15 for story time! Each week we will be reading stories, singing songs, and having fun.  All ages are welcome.
Book Discussion
Join a lively discussion of literary fiction!  In October we are discussing 'The Things They Carried' by Tim O'Brien. The meeting will take place Wednesday, October 19th @1:30 p.m. at the library. Everyone is welcome!
Library Tour
The new space is open for visitors.
Enjoy this virtual tour.